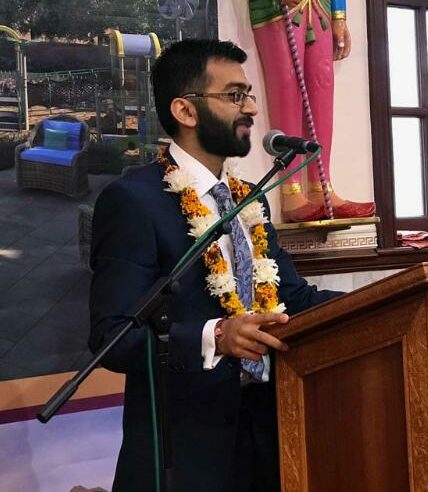 Cllr Krupesh Hirani will seek the Labour nomination for the seat of Brent and Harrow in next year's Greater London Authority elections.
Cllr Hirani's announcement follows the decision by the Labour incumbent, Navin Shah, to stand down after twelve years in the role. Assembly Member Shah has publicly endorsed Cllr Hirani's candidacy, backing Brent's Cabinet Member for Health, Culture & Leisure to replace him at next year's election.
Born, raised and educated in Brent, Krupesh has represented Dudden Hill ward since 2010, and has served as the Lead Member for Health since 2012. He previously worked for the Harrow-based spinal injury charity, Aspire, before joining the MS Society as their Regional Officer for London in 2015.
Outlining his priorities for Brent and Harrow, Cllr Hirani has highlighted the need to protect police numbers, improve the accessibility of public transport and lead the fight against cuts to local health services. Other commitments include the introduction of a Young People's working group to facilitate better youth engagement across the two boroughs to bring issues forward to the Mayor, as well as improving air quality in some of the area's most polluted neighbourhoods.
Endorsers of Cllr Hirani's campaign include MPs Dawn Butler (Brent Central) and Gareth Thomas (Harrow West), as well as the leaders of both Brent and Harrow councils, Cllr Muhammed Butt and Cllr Graham Henson. He is also backed by the GMB trade union.
Announcing his intention to stand, Cllr Hirani said:
"I'm standing to be Labour's candidate because I believe Brent and Harrow deserve a representative who really understands the challenges facing our communities. Our area has seen enormous change over the past decade, and I am committed to giving local residents a strong voice in City Hall – a voice that will fight to protect the things we all care about.
"Over the past decade, we have seen huge changes across Brent and Harrow that have helped to unlock new opportunities. I want to make sure that everyone is able to take advantage of those opportunities, and am committed to working closely with residents from every corner of Brent and Harrow to help our communities realise their full potential.
"It would be an honour to serve the people of Brent and Harrow, and an opportunity to give back to a community that has given me so much."
Gareth Thomas, Member of Parliament for Harrow West, said:
"Krupesh is well-known across communities in both Harrow and Brent. He is the ideal candidate to represent Labour at the London elections and I am proud to support him as our candidate for 2020."
Dawn Butler, Member of Parliament for Brent Central, said:
"Krupesh works tirelessly for Brent and as his MP I am always confident when I refer people and issues to him that he will deliver."
Barry Gardiner, Member of Parliament for Brent North, said:
"Krupesh represents the future of the Labour Party. I believe he has the vision and commitment to represent diverse boroughs like Brent and Harrow. He has a record of delivery and is 100% committed to the area he is proud to call home."
Navin Shah, London Assembly Member for Brent and Harrow said:
"I first met Krupesh as a community activist in Harrow rather than through the Labour Party. Brent and Harrow will be in capable hands with Krupesh as its Assembly Member."