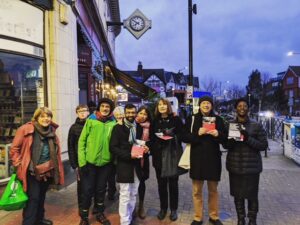 There is no better gift that we can give to our future generations than a clean planet. Politicians have a duty to address the public health crisis of pollution and air quality in our great city. I will help fight for a cleaner, greener Brent and Harrow that is accessible for all. With high pollution levels in London, we have a duty to improve our air quality and in turn improve health outcomes for all. Investment in public transport is also key and major infrastructure projects such as the West Orbital light rail have huge potential to improve travel experiences of residents in North West London.
Accessible transport is also a critical issue. As someone who has worked and campaigned tirelessly for disabled people across the country, I know how important it is for people to be able to travel by public transport. It is an absolute right. I will support community led campaigns for accessible tube stations as well as better bus routes for all.
London's public transport system is at threat by the Government who have used the Coronavirus crisis to meddle with London's transport system. Across the country they have mismanaged National Rail services and we cannot allow them to have control of TfL given their track record on rail services. They have continued their assault on young people by targeting cutbacks on free under-18 travel.
Transport for London's main source of income since the Government grant was cut back is fares and naturally, with people the numbers of people using public transport drastically reducing, this has had a significant impact on TfL. The Government has placed damaging bail out conditions on TfL which has not been the case for the Manchester Metrolink, Sheffield Supertram, West Midlands Metro, NET Nottingham and Tyne and Wear Metro systems who have all had debt free bailouts.
I will work with the Mayor of London to campaign against these unfair and unjust attacks on London from the Government.
The Freedom Pass is also a lifeline for people over 60 in London and disabled people. We need to ensure it is protected and continues to support Londoners and also disabled people which I will continue to do.